7 Half-Day Trips from Podgorica
Though a small country, Montenegro has been blessed with cultural richness and immense natural beauty. Its capital Podgorica is rarely chosen as a primary tourist destination, however its central location can be a good base for exploring the country.
Whether you're visiting on your own or with family and friends, here are my picks for 7 half-day trips. You can either take them in the morning, or in the afternoon and still be back early enough to attend your meetings or experience the buzzing nightlife of the Podgorica city. No ranking here, each of these trips has a charm of its own.
Skadar Lake and Rijeka Crnojevica
Skadar lake is an ancient tectonic lake. Numerous scientific studies have revealed that several European freshwater animal species originate from there. Skadar lake is also one of the largest bird reserves in Europe and, among other birds, pelicans can be spotted there.
Skadar Lake boat trips, lasting from 2 to 6 hours, are bringing a new dimension to out-of-town getaways. Silent boats, sliding over the beautiful lake, covered with waterlilies and other aquatic plants, are circling tiny islands, called Gorice, Mala & Velika Čakovica, Andrijska Mountain and Grmožur, the latter also known as the Montenegrin Alcatraz. Yet another trip will take you to the magnificent Kom Monastery, built between 1415 and 1427. In hot summer days you might want to combine a boat trip with a short hike to the waterfalls in nearby Poseljani and jump into fresh waters. Birdwatchers will enjoy Dodosi, delta of the river Morača and above all, Manastirska Tapija, an ornithological reserve.
Biodiversity protection is of vital relevance to the lake and we recommend a trusted nature-sensitive boat operator Skadar Lake Boat 'Milica'.
An alternative heritage & culinary colored trip can be experienced by visiting another town on the shores of the lake: Rijeka Crnojevica – hiking or biking to a couple of traditional villages and tasting an authentic meal either at 'gumno' or 'konoba'. The 'wine route', as well as, the 'cheese road' call for unique experiences. Check out Your Montenegro Agency website.
Donkey Farm Martinici
Donkeys have a special place in Montenegrin rural heritage. However, modern agricultural technology replaced them. Darko Saveljic, the 'founding father' of the farm, is a passionate nature lover who saved several indigenous female donkeys (jennets) from maltreatment and abandonment by opening his farm. Martinici Donkey Farm is probably one of the most nature-friendly donkey farms in the world.
Only a 20-30 min drive from Podgorica brings you to a great place for children (and adults) to see these animals, learn about beneficial effects of donkey milk, enjoy the countryside and get inspired for nature protection. Donkeys are also great 'therapists'. Children will certainly enjoy touching and combing them and designing funny hairstyles from their hair. Free hippo-therapy can be individually arranged for children with symptoms of autism.
The farm is open every Sunday 10.00-13.00, entrance fee is 1 kg of donkey feed, such as: apples, carrots and similar. Group visits can also be arranged.
Panoramic Route 'Krug oko Korita'
Stellar natural spots with amazing vistas over the river Cijevna, Podgorica and Albanian Alps are to be experienced on the designated circular path 'Krug oko Korita'. By walking only a section of this panoramic route for about 1.5-2 hours, you reach spectacular Falcon's Throat (Grlo Sokolovo). Kucka Korita, the starting point of this hiking tour, are located 38 km from Podgorica. Maps are available on the Tourism Board Podgorica web site or at the visitors' centers.
Lipa Cave
Lipa cave, located 35 km east of Podgorica, near the historic capital Cetinje, is the youngest member in the family of renowned world show caves, and the most impressive cave, open to visitors, in Montenegro. It is known that King Nikola held receptions there and Njegoš spoke of its beauty. A system of 2.5 km of passages and halls is available to visitors. Theater lighting designers have created illuminations that have a rich influence on the scene of the cave.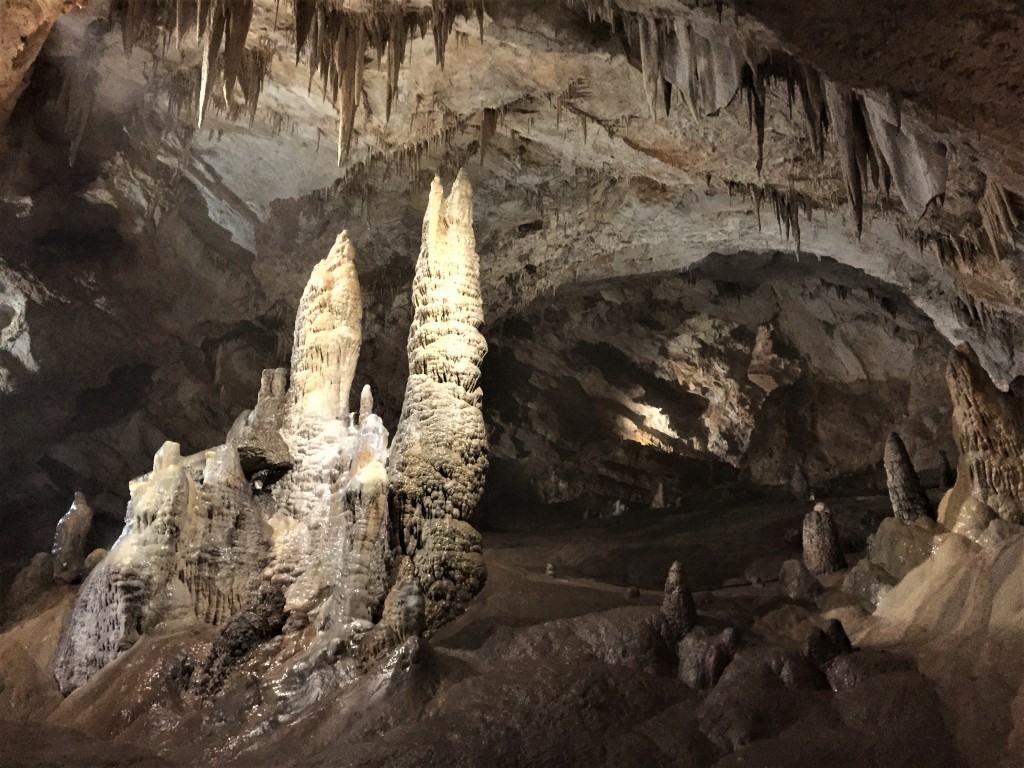 Lipa Cave; Photo by Tadeja L. Colnar
Families and casual visitors can enjoy a walk along the 400 m of cave corridors, admiring cave ornaments, underground lakes and majestic hallways created by nature. Adventurers and adrenaline seekers might prefer a 30 m descent from the ceiling on a rope and explore hidden corners of the cave with a professional guide. These adventures are only available, if arranged in advance. The cave is open to visitors from April till December.
River Cijevna and 'Niagara Falls'
Taken with a pinch of famous Montenegrin humor, these 'Niagara falls' are much smaller than their northern American namesakes. Nevertheless, the five rivers of Podgorica are certainly an important natural asset, enriching the experience of the city. 'Niagara falls' on the river Cijevna are a cool out-of-the-city spot, popular among locals and less known to the visitors. On hot summer days, you can cool yourself off by jumping into calm waters. It only takes a 10 minute drive from Podgorica to Tuzi to get to the Niagara falls.
Roman Settlement Duklja
In the northern outskirts of the city, you can visit one of the best preserved ancient historical sites in Podgorica: the Roman settlement Duklja, built in the 1st century. There's not much tourist infrastructure on the site. It is rarely crowded so you can usually explore the old ruins on your own.
While being in the area you might want to visit Zenta Winery, located above the shores of Zeta river in Rogami. What began as an experimental vineyard has grown into one of the most renowned wine brands in the country. A cozy tasting room with old ceiling beams is a great place to end the day, but arrange your visit in advance.
An alternative way of approaching Duklja is an insightful 4-5-hour bike tour from the center of Podgorica, following the river Moraca to Duklja. The biking tour continues on the banks of Zeta river all the way to Danilovgrad. Montagna Agency provides you with bikes, accompanying vehicle and guides.
Free Climbing at Smokovac
If you feel like getting some air under your feet, limestone rock formations at Smokovac are the place to go. Smokovac, located 5 km Northeast of Podgorica, is a hot spot for free climbers of all levels of experience from absolute beginners to professionals.
Climbers are supported by a guide, using safety ropes, and provided with climbing equipment. For more information contact Montagna Agency.
***
Our home away from home has been Hotel and Restaurant Laguna, renowned for authentic cuisine that can be rarely experienced in Podgorica. Try delicious 'priganice' for breakfast or carp fish, eel, 'rastan' (green cabbage stew) or 'japraci' (traditional rolled green cabbage stuffed with meat and rice) for lunch or dinner. Be prepared for generous portions!
On our trips, we devoted special attention to local heritage and nature protection, thanks to our trusted and responsible tourist guide Nino M. Markovic from Montenegro Tour Guide.
Written by Tadeja L. Colnar

Prepared within the EU-funded project 'Laguna Heritage Tourism Cluster' (LHTC), led by the Institute for Strategic Studies and Prognosis (ISSP).