The Accursed Mountains area is captivating in so many ways. Spectacular mountain scenery, exhilarating climbs and other gorgeous hiking routes are available for people of all ages, skills and stamina.
There are also plenty of historical sites and charming old cities to be discovered. Culturally, the region is one of the most diverse ones in Europe. It is an amalgamation of cultures and religions, Orthodox Christian, Muslim and Catholic.
We have curated this one-week itinerary, revealing some of the best kept secrets of the inspiring cross-border area between Montenegro and Kosovo among amazingly simple, kind and generous people.

DAY 1
Arrival to Plav in the afternoon
Visit to Kula Redzepagica
Kula Redzepagica, a national cultural monument, is known to be one of the most photographed old buildings in Montenegro. It is a beautiful example of traditional local architecture and housing. Well preserved artefacts vividly speak of the lifestyle of local inhabitants in the past.
Walk around Plav lake
Plav lake is the biggest glacial lake in Montenegro. With the inflows of nearby springs and rivers, its fresh waters are changing every four days. In summer, swimming and variety of other water sports (kayak, boats, pedal boats) are possible. Its beautiful scenery attracts in all seasons. The lake is also a great spot for birdwatchers. You can observe species specific for the region, such as: Mallard, Pochard, Coot, Moorhen, Great Crested Grebe, Little Grebe, Grey Heron, Cormorant.
Traditional, home-made dinner at rural household Savić in the village Pepiće at the foot of Visitor mountain, 7 km from Plav lake. The household produces its own tasty cheese, honey, jam and other local delicacies.
There are plenty of accommodation facilities available in Plav, such as: Timm Apartments, Ethno village Komnenovo, Lake Views Hotel and Camp, Canovic Appartments etc.
DAY 2
Visit to the Botanical Garden Velemun
Velemun garden was established in 1993 on the local waste disposal. It's a little oasis full of colourful native plants. Altogether, over 350 plants, 12% of total plant species in Montenegro, can be observed. Its passionate founder and owner has been collecting, preserving, displaying and labelling the plants with much love and care. He brought majority of them from the nearby mountains.
Hiking through the Peaks of Prokletije glacier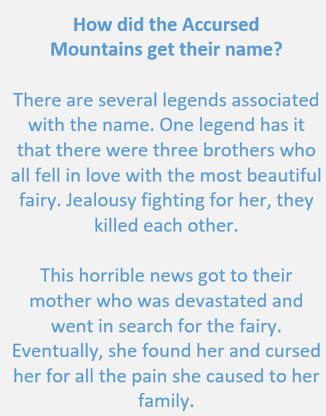 Though "Peaks of the Balkans" are the most renowned route, attracting many visitors to the area, you can try an easy hike through the "Peaks of Prokletije glacier" to get the first sense of Prokletije (the Accursed) Mountains experience.
This newly launched circular trail merges with the "Peaks of the Balkans" route in one section. Local inhabitants have long used this path to walk from Plav to Vradište. After Vradište, the trail returns via Završ to the Ćuljuntra lookout, then descends to the centre of Plav, to Kula Redzepagica.
Somewhere in the middle of the trail, right after finishing the path of fungi and medicinal plants towards Budovice, rural household Feratović is a great stop for a hearty lunch.
Spending a night in katun
To truly experience the Accursed Mountains, you need to spend a night under the stars in katun. Katuns are originally shepherds' huts, but nowadays authentic lodges available to visitors around the Accursed mountains.
We recommend Katun PSK Hrid, Katun Gradine or Samel's Cottage (Bajrovica katun) on the way to Hrid lake.

DAY 3
Morning hike to Hrid Lake
This is a hike through the pine forests on well-marked walking trail. Several legends speak of the beauty of Hrid lake. One of the most famous ones is that magical fairies bathe in it. The lake is mainly accessible between June and November. The rest of the year is available to fairies only.
Lunch at the rural household Redžematović will fill you with energy after this hike. There, you can also learn how to make cheese, help with the preparation of authentic dishes or ride a horse.
After that, it's time to move towards Gusinje and Vusanje.
Visit to Ali Pasha Springs
The springs are named after a famous commander Ali Pasha of Gusinje.
"In a beautiful, bucolic setting at the foothills of the Prokletije mountains, these karst springs are an ideal spot for a picnic. Locals extol the health benefits of drinking the springs' water, purportedly rich in therapeutic minerals. The springs are a five-minute drive – or an easy 25-minute hike – south of Gusinje." (Source: Lonely Planet). 💦💦
Nested in a little valley, Eko Katun Rosi is a nice place to spend the night.

DAY 4
Arrival to Grebaje Valley
Grebaje valley is a beautiful Alpine valley, one of the signature sceneries of Prokletije National Park.
Walking through the valley reveals several nature wonders, such as the "Šuplja vrata", a stone formation known as "the kissing cats" as well as the eternal glacier.
Bicycles can be arranged at the national park info centre for a scenic ride from Grebaje to Ropojana valley. Its myriad shades of green are soothing to the eye. The valley is surrounded by rugged grey mountains rising to the sky high above.
There are several rural households in the surrounding villages where you can stop for a tasty lunch. One of them is household Bojović in the village Grnčar where you can try traditional dishes, including a carrot jam, the household specialty.
Grebaje valley is a great starting point for several mountain trails in the vicinity.
You can visit magnificent "Oko Skakavice", the largest spring in Prokletije.
Volušnica trail is also an attractive option. It is one of the most known mountain trails in Montenegro. Ancient history enthusiasts will enjoy searching for Magna Mater Stone Gravure near the abandoned Volušnica summer pasture. This ancient gravure is showing the combat of a man and a woman with a wolf, attacking their child. Archaeologists estimate that it dates back to the Neolithic period.
Nature lovers might be particularly interested in a walk to Kotlova and the lowest glacier in Montenegro, there, some endemic plants like, Wulfenia blecicii, can be seen.
Experienced mountaineering guides: Ahmet Reković, Dino Mulamekić, Semir Kardović and Enes Drešković can guide you in these beautiful mountains.
A great place to stay in Grebaje valley is katun Maja Karanfil. In their restaurant, you'll be served traditional dishes while overlooking the unique amphitheatre of Grebaje peaks. They also provide accommodation.
Evenings can be spent in relaxation in Grebaje valley. The valley is a nice spot for easy evening walk, jogging or meditation.
DAY 5
Departure to Kosovo
Before crossing the border, it's nice to stop for a coffee in the old town of Rožaje in Montenegro. If you have enough time, we recommend a short walk to nearby mountain Hajla which is known for beautiful flowery meadows.
Visit to Deçani / Dečani Monastery
Visoki Dečani Monastery is UNESCO World Heritage site, one of the most amazing cultural tourist attractions in the cross-border area between Kosovo and Montenegro. The monastery was founded in the first half of the 14th century by the king Stefan Dečanski. Beautifully decorated high walls of the church together with its other treasures are very impressive.
Lunch in kulla in Drenoc
"Kullahopping" is another unique experience that can be tried out in Deçani / Dečani. It's about visiting "kullas", traditional tower houses, in villages Drenoc and Isniq. Some kullas are specialized, such as mill kulla or Osdautaj kulla in Isniq.
Osdautaj kulla also offers accommodation and features a small museum of traditional costumes and agricultural tools. There, you can meet one of the last artisans, preserving unique local weaving tradition.
If you're a fan of historical artefacts, we recommend to visit Kastrioti Ethno Museum in Deçani / Dečani. For over 20 years, the passionate owner of this simple museum has been collecting precious historical pieces. Altogether, more than 1,000 objects are displayed, including a 5,000 years-old ancient stone artefact of special value.
Accommodation in Deçani / Dečani
DAY 6
Exploring Mountains around Deçani / Dečani Valley
After a hearty breakfast, it's time to explore mountains around Deçani / Dečani valley. The area is rich in biodiversity with a total of 750 plant species, of which 18 are endemic.
One of the best hiking trips starts from Zalli Rops to Qafa Bogiqe (2,090 m) which lies at the border line between Kosovo and Montenegro. From there, you can climb to the summit Maja Rops (2,501 m) and descend back. During this trip you will hike a segment of the renowned Via Dinarica mega trail. This hike is 15 km long and it will take 6 hours. Another option is to cross the border and continue downhill to Katun Bogicevice in Montenegro.
For skilful mountaineers, hiking Maja e Gjeravicës / Gjeravica is a must experience. With the elevation of 2,656 m, it is the highest mountain peak in the cross-border area between Kosovo and Montenegro and the second highest in the entire Dinarica mountain range. Several glacial lakes can be found near the summit, such as Gjeravica Lake / Liqeni i Gjeravicës, the highest mountain lake in Kosovo located just under the summit of Gjeravica peak. It is also known for salamanders which feast on flying insects. The scenery at the top of Gjeravica is spectacular.
Mountaineering guides can be found in regional tourism centres. There are several options to access Maja e Gjeravicës / Gjeravica, one is from Deçani / Dečani and the other is from Gropat e Erenikut. The route from Gropat e Erenikut takes about 4-5 hours, while the route from Deçani / Dečani, in a total distance of around 14 km, takes 8 hours. There's also an option of combining the two routes, by starting in Deçani / Dečani and finishing in Gropat e Erenikut or the other way around.
Gjeravica is accessible in all seasons. One has to be in good shape and needs the appropriate gear. If a challenge is what you're after, give Gjeravica mountain a try in winter.
Two other interesting hiking trips from Deçani / Dečani valley are:
1. Bjeshka e Prilepit (2,150 m) – Marijash – Shkallet e hajnave – Roshkodol, 12 km, 7 hours;
2. Bjeshka Beleg (2,365 m) – Krshi Bletës – Maja Madhe – Bjeshka Beleg, 10 km, 6 hours.
In summer, you can spend the night in a simple hut in the mountains. Kind and generous shepherd families will provide a delicious organic meal. Unforgettable!
DAY 7
Visit of Peja / Peć major attractions
Peja/Peć offers variety of attractions for culture and nature lovers.
Culture enthusiasts might want to start the day by:
• Visiting regional ethnographic museum, a renovated and reallocated home of Tahir Beg in Peja / Peć, one of the most beautiful medieval houses in the city.
• Visiting Haxhi Zeka Mill – the mill was the tallest building in Peja / Peć when it was built. It was the first mill in Kosovo and in the wider region which had the most advanced electrical technology brought in from Austria. The mill initially used water for its power source, but soon switched to electricity.
• Meetings with local masters of traditional crafts
Meeting a handicraft master who still makes traditional plis is a unique experience. Plis is a white woolen hat traditionally worn in Kosovo. Wearing this hat requires special care. It must be kept white at all times! The height of the hat varies region to region and is part of the traditional local costume. Its style is thought to originate from a similar one worn by the Illyrians.
Filigree masters – there's only a handful of artisans that keep a centuries-old tradition of handmade filigree jewelry alive in Peja/Peć in Kosovo. Artisans spend hours curling fine silver threads into sophisticated necklaces, earrings, rings, bracelets. Kosovo is one of rare places in Europe where this delicate lace-like kind of jewellery making tradition still exists. In the past, the area had its own silver mines and artisans had plenty of raw material to work with. Now, it is mainly imported, but filigree still holds special place in traditional wedding ceremonies.
If you're more of a nature lover or adventurer, you might want to spend the morning in Rugova valley.
Rugova Canyon is a place of great natural beauty. It is considered to be one of Europe's longest and deepest canyons, reaching a depth up to 1,000 meters. The canyon has been declared a protected monument of natural heritage due to its geological, speleological and botanical values. With numerous hiking possibilities, with amazing "Tibetan Bridge" (41 m of length and 60 m of height), a spectacular zip line and via ferrata, it is also one of the best destinations in Kosovo for nature lovers and adventurers. Visit tourist centre in Peje/Peć for more information.
Departure to Gjakovë / Đakovica
A short drive through the Dukagjin / Metohija plain will take you to Gjakovë / Đakovica. The plain covers 35% of Kosovo's total area. Several small rivers flowing along the valley provide water for irrigation. In combination with mild Mediterranean climate, this fertile land provides excellent conditions for wine making, growing of vegetables, chestnut and almond trees. Fruit orchards also adorn the area.
Recent world events related to coronavirus reminded us of the exceptional value of local food supply. At Jupa's Restaurant, they will bring all local flavours to your table.
Walk through the Gjakovë / Đakovica old town
You can start exploring the city by visiting its major cultural attractions, such as: Tabaku Bridge and Hadumi mosque complex, including its rich library.

Gjakovë / Đakovica old town is a great place for socializing. Either for a morning coffee, lunch or late-night stroll, the old town never disappoints. Locals are famous for their unique sense of humour. Stand-up Comedy Festival is taking place here in summer. Though it may be small, the city of Gjakovë / Đakovica knows how to make an impression.
Accommodation at Hotel Carshia e Jupave Inn, located in the very heart of Gjakovë / Đakovica old city. This tastefully designed hotel is retaining the local traditional character with a touch of warm contemporary design.
DAY 8
Morning biking around Junik
Bicycles can be rented at Regional Tourism Centre Dukagjin in Junik.
Visit to Tekke of Alijjei – Halvetije Xhaferije Tariqa (Teqja Amë e Tarikatit Alijjei – Halvetije Xhaferije) in Junik
Tekke is a religious building of the Islamic Sufi brotherhood. It belongs to the Khalwati order (also known as Khalwatiya or Halveti). Sufis are recognised for inspiring whirling ceremonies, aiming to reach the source of all perfection through listening to the music, praying and spinning in repetitive circles. The whirling has been seen as a symbolic imitation of planets in the Solar system orbiting the sun.
The main public whirling ceremonies take place in January, March and August. They also organise small public whirling ceremonies every Friday at noon.
The Accursed mountains will give you plenty of opportunities to be pleasantly exhausted after a good hike in pristine nature, spiritually uplifted or charmed by local people. Nevertheless, you will certainly enjoy this extraordinary experience of visiting one of the most undiscovered areas in Europe!